Generation of Validation Data for an Electrothermal Ice Protection System
Richard Moser, Bernhard Reinholz, Wolfgang Breitfuß, Stefan Diebald, Philipp Kollmann, Sebastian Humpel, Reinhard Puffing, David Kozomara, Simon Schweighart, Wolfgang Hassler, Thomas Neubauer and Andreas Tramposch
AIAA AVIATION FORUM 2022, DOI: https://doi.org/10.2514/6.2022-3457
Abstract
This paper provides information on the generation of validation data for electrothermal ice protection system numerical tools, based on testing on a 2D wing section at the RTA test facility in Vienna. Updates to the RTA calibration capability are provided, including for the Freezing Rain, MVD > 40 microns regime. Latest developments in ice shape scanning and post-processing are shown, including for runback ice generated from heated cases. Some preliminary comparisons to the measured data are provided using different simulation tools, including unheated ice shapes.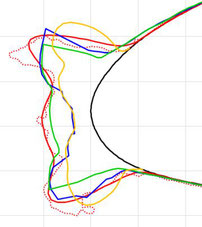 ---
Experimental Investigation on the Effects of Icing on Multicopter UAS Operation
David Kozomara, Thomas Neubauer, Reinhard Puffing, Ingeborg Bednar and Wolfgang Breitfuss
AIAA AVIATION FORUM 2021, DOI: https://doi.org/10.2514/6.2021-2676
Abstract
The implications of icing for the operation of multicopter unmanned aerial systems (UAS) have not been thoroughly investigated yet. Due to the geometry and flight envelope of multicopters, existing knowledge in the field of aircraft icing can only be applied in a limited manner. More research is required to better understand the influence of icing on the flight characteristics, on-board systems, and sensors of multicopters. Studies performed on single UAS propellers show that icing can lead to critical flight conditions in a very short period of less than 60 seconds. Icing of the propeller blades reduces the aerodynamic performance while increasing the required power input at constant rotational speed. This paper features a more top-level approach and investigates the effects of icing on the operation of a multicopter with 25 kg maximum take-off weight. Therefore, experimental icing tests were conducted at the Rail Tec Arsenal Climatic Wind Tunnel in Vienna, Austria. The multicopter was mounted on a testbed and operated in defined icing conditions according to Appendix C and Appendix O (freezing drizzle) conditions. The rotational speed of the propellers was maintained until a certain power limit, or the predefined icing time was reached. The final ice accretion was documented by means of 3D scanning and evaluated. Moreover, a surface roughness analysis of the propeller blade ice accretion was performed.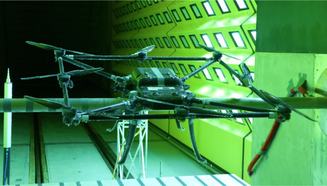 ---
Determination of Droplet Impingement on an Octocopter at different Flight and Icing Conditions with CFD Methods
Andreas Tramposch, Michael Thomann and David Kozomara
AIAA AVIATION FORUM 2021, DOI: https://doi.org/10.2514/6.2021-2501
Abstract
A simple and efficient CFD workflow was developed to identify critical areas on small multicopters in regard of ice accretion when flying in icing conditions. Using a transient rotor stator model for rotor blade simulation inside a stationary domain containing the multicopter airframe, a transient Euler-Lagrangian multiphase flow simulation was used to calculate water droplet trajectories and impingement for various icing and flight conditions. For an Appendix O freezing drizzle icing case the numerical results from an octocopter cruise flight were validated with measurement data gained from an experimental investigation performed in the Rail Tec Arsenal Icing Wind Tunnel in Vienna, Austria for same icing and flight conditions. Thereafter, total and local droplet impingement rates on the octocopter obtained from CFD simulations were compared with results gained from 3D scans of the octocopter with accrued ice after the experimental icing process.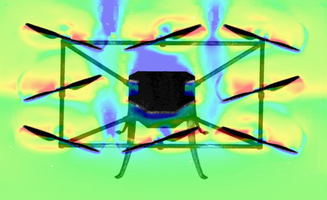 ---
Assessment of Ice Shape Roughness via Automatic Spacing of Codebook Vectors in a Two-Dimensional Self-Organizing Map
Thomas Neubauer and Reinhard Puffing

AIAA AVIATION FORUM 2020, DOI: https://doi.org/10.2514/6.2020-2806
Abstract
Characterization and assessment of ice shape roughness can be done by evaluating the point cloud from a three-dimensional scan of the iced surface. One way of evaluating this point cloud is the application of the neural network technique Self-Organizing Maps (SOM), which was already successfully applied in previous examination and studies of ice shape roughness. This algorithm is based on codebook vectors, which position themselves in local clumps of multidimensional and noisy data. The connection of those codebook vectors represents the mean shape or manifold of the investigated rough object. The magnitude of scattering of the data points about this manifold can then be interpreted as the roughness by applying statistical evaluations. The amount of codebook vectors needed is usually an input parameter for the algorithm. The manual process of determining different regions in the shape and determination of their optimal number of codebook vectors is a time consuming and iterative process. However, a certain statistical requirement exists on how sparse or dense the codebook vectors shall be positioned. In this study, this requirement is used to automate the whole process from point cloud input to calculation of the roughness parameters for each codebook vector region. This algorithm is exemplarily applied to a NACA 0012 wing, exposed to appendix C icing conditions in the icing wind tunnel of Rail Tec Arsenal in Vienna, Austria.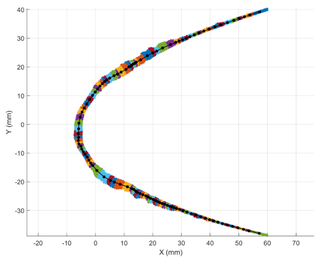 ---
Ice Shape Roughness Assessment Based on a Three-Dimensional Self-Organizing Map Approach
Thomas Neubauer, Wolfgang Hassler and Reinhard Puffing

AIAA AVIATION FORUM 2020, DOI: https://doi.org/10.2514/6.2020-2805
Abstract
One approach of performing ice roughness analysis is the evaluation of three-dimensional scanned point clouds of the iced surface. The point cloud data can then be evaluated via the neural network technique Self-Organizing Maps (SOM). A two-dimensional version of this machine learning algorithm has already been successfully applied in previous studies. However, an extension to three dimensions is highly desirable, as it enables the evaluation of ice roughness on arbitrary surfaces and shapes. Nevertheless, the implementation in three dimensions holds some difficulties, as curvature-induced roughness artefacts occur during evaluation. In this paper, the extension of the SOM algorithm from two to three dimensions is presented. Furthermore, a method for the mitigation of curvature induced roughness artefacts is introduced. This curvature correction is based on a local surface and curvature approximation and significantly reduces the curvature-induced errors. Two test cases for validation of the curvature-corrected three-dimensional SOM method are presented. The first test case is an artificially created point cloud with known and assigned roughness. The second test case is a 3D scanned point cloud of an NACA0012 wing, exposed to SLD icing conditions in the icing wind tunnel of Rail Tec Arsenal in Vienna, Austria.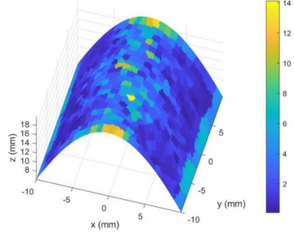 ---
Validation of Ice Roughness Analysis Based on 3D-Scanning and Self-Organizing Maps
Thomas Neubauer, David Kozomara, Reinhard Puffing and Wolfgang Hassler
SAE 2019 International Conference on Icing of Aircraft, Engines, and Structures, DOI: https://doi.org/10.4271/2019-01-1992
Abstract
3D-scanning is an established method for the documentation of wing ice accretion. The generated 3D-data can be used to determine specific parameters of interest, like the local ice-thickness, or the surface ice roughness. The surface roughness has significant impact on the heat transfer, and therefore on the icing process itself. Insights into the effects of surface roughness on the ice accretion and the correlated aerodynamical effects contribute to the improvement of icing codes. In this paper, the surface roughness of various test specimens is determined by performing a self-organizing maps (SOM) approach for roughness point cloud analysis on data generated with a 3D-scanner. A validation of the SOM method is achieved by means of focus variation microscopy and a mathematical proof of the utilized SOM algorithm. Different scanning systems from several manufacturers are used to determine the surface of different sandpapers. This investigation shows the limits and capabilities of state-of-the-art 3D-scanning systems in the field of surface roughness. Furthermore, the roughness model is calibrated to absolute surface parameters, such as the mean arithmetic roughness Ra or the root mean squared roughness Rq.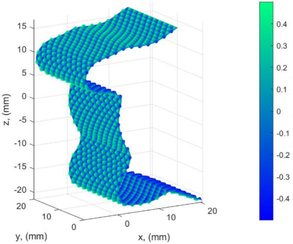 ---
Aerodynamic Assessment of Complex 3D Ice Shape Replications
Reinhard Puffing, Wolfgang Hassler, Thomas Neubauer, David Kozomara and Hermann Ferschitz
SAE 2019 International Conference on Icing of Aircraft, Engines, and Structures, DOI: https://doi.org/10.4271/2019-01-1936
Abstract
This work introduces an approach allowing the detailed replication of ice shapes generated in icing wind tunnels, with a special focus on complex and strongly varying ice structures, e.g., ice feathers or residual ice stemming from incomplete removal of accreted ice by ice protection systems. 3D-scans are used as an input for the manufacturing process of the ice shape replica. The manufacturing approach itself is based on additive techniques using semi-flexible materials. In contrast to existing replication techniques, this approach allows also clean areas between ice-covered surface locations. In the present paper, a quality assessment based on the comparison of the lift coefficients of real and corresponding artificial ice shapes is presented.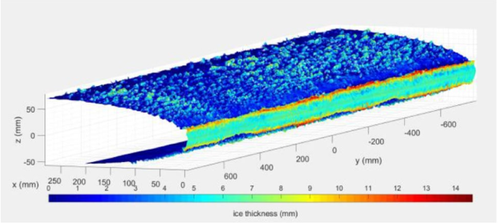 ---
Ice Shape Mapping by Means of 4D-Scans
Reinhard Pufffing, Wolfgang Hassler, Andreas Tramposch and Marian Peicar
SAE 2015 International Conference on Icing of Aircraft, Engines, and Structures, DOI: https://doi.org/10.4271/2015-01-2151
Abstract
When studying ice accretion processes experimentally it is desirable to document the generated ice shapes as accurately as possible. The obtained set of data can then be used for aerodynamic studies, the improvement of icing test facilities, the development of design criteria, the validation of ice accretion simulation tools as well as other applications. In the past, various ice shape documentation methods have been established including photography, cross-sectional tracing, molding and casting as well as 3D-scanning. This work introduces a new ice shape documentation technique based on active 3D-scanning in combination with fluorescent dyes and an optimized set of optical filters. The new approach allows recording the time-resolved three dimensional growth of an arbitrary ice shape. Based on this concept a so-called 4D-scanning system is developed, which allows a detailed evaluation of icing experiments and hence a better understanding of the ice accretion process itself. The scanning system has been successfully implemented and tested in two icing wind tunnels of completely different size, namely FH JOANNEUM's small scaled icing wind tunnel and Rail Tec Arsenal's large icing wind tunnel.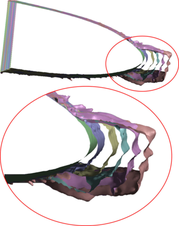 ---
Computational and Experimental Investigation of Ice Particle Accretion in a Generic Pack Discharge Duct
Andreas Tramposch, Wolfgang Hassler and Reinhard Puffing
SAE 2015 International Conference on Icing of Aircraft, Engines, and Structures, DOI: https://doi.org/10.4271/2015-01-2082
Abstract
Certain operating modes of the Environmental Control System (ECS) of passenger aircraft are accompanied with significant ice particle accretion in a number of pivotal parts of the system. Icing conditions particularly prevail downstream of the air conditioning packs and, as a consequence, ice particle accretion takes place in the Pack Discharge Duct (PDD) and in the mixing manifold. For a better understanding of these icing processes, numerical simulations using a multiphase model based on a coupled Eulerian-Lagrangian transport model in a generic PDD were performed. The obstruction of the PDD due to ice growth and the resulting change of the flow geometry were treated by deforming the computational mesh during the CFD simulations. In addition to the numerical investigations, a generic and transparent PDD was studied experimentally under several operating conditions in FH JOANNEUM's icing wind tunnel.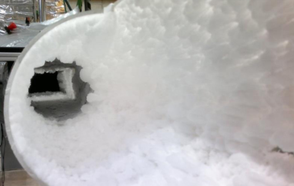 ---
Thermal Ice Protection of Restraining Grids in the Environmental Control System of Passenger Aircraft
Wolfgang Hassler, Reinhard Puffing and Andreas Tramposch
SAE 2015 International Conference on Icing of Aircraft, Engines, and Structures, DOI: https://doi.org/10.4271/2015-01-2095
Abstract
This paper deals with thermal ice protection of electrically heated restraining grids designed for applications in the environmental control system (ECS) of passenger aircraft. The restraining grids described in the paper consist of strung, electrically insulated wire and are - in certain operation modes of the ECS - exposed to an airstream containing supercooled water droplets and/or ice particles. Heat is generated in the wire by an electric current, and the temperature of the wire is controlled with the aid of an electronic control system. A substantial question for laying out the controller and for operating the grids is the following: What minimum heating power is required to prevent ice accretion on the surface of the wire, i.e., what is the least heating power that is necessary to keep a grid being exposed to specific icing conditions devoid of ice? This problem is studied for a simple model system first and is then examined for restraining grids. The methods utilized for these investigations include icing wind tunnel experiments, numerical simulations involving FH JOANNEUM's icing code ICEAC2D v2 as well as analytical calculations.